STUDIO A
Studio A is designed as a 'One Room' studio and has a cozy work enviornment with its spaciousness and natual lighting. The room is variable and can be transformend to a pure recording room, while Studio B is used as a control room. The back side of Studio A is equipped with double sided absorbers which when flipped turn into diffusors. This gives an option for a less dry and longer roomsound if needed.
STUDIO B
Studio B serves as an additional workspace with dryer sound. As a room-in-room construction both rooms are well isolated from each other which enables working in both studios simultaneously. Additionaly it is possible to record vocals and soft instruments in Studio B while the rest of the band is recording in Studio A at the same time. The audio and dataconnection between the studios make it possible to use Studio B as a control room.
CONCEPT
Square One is a studio suited for music producers and musicians, who are looking for an intimate and undisturbed working environment. Square One is located in a building with only creative businesses around, therefore there are no sound restrictions 24/7. A big network of instrumentalists, producers and other studios opens up a lot of possibilities.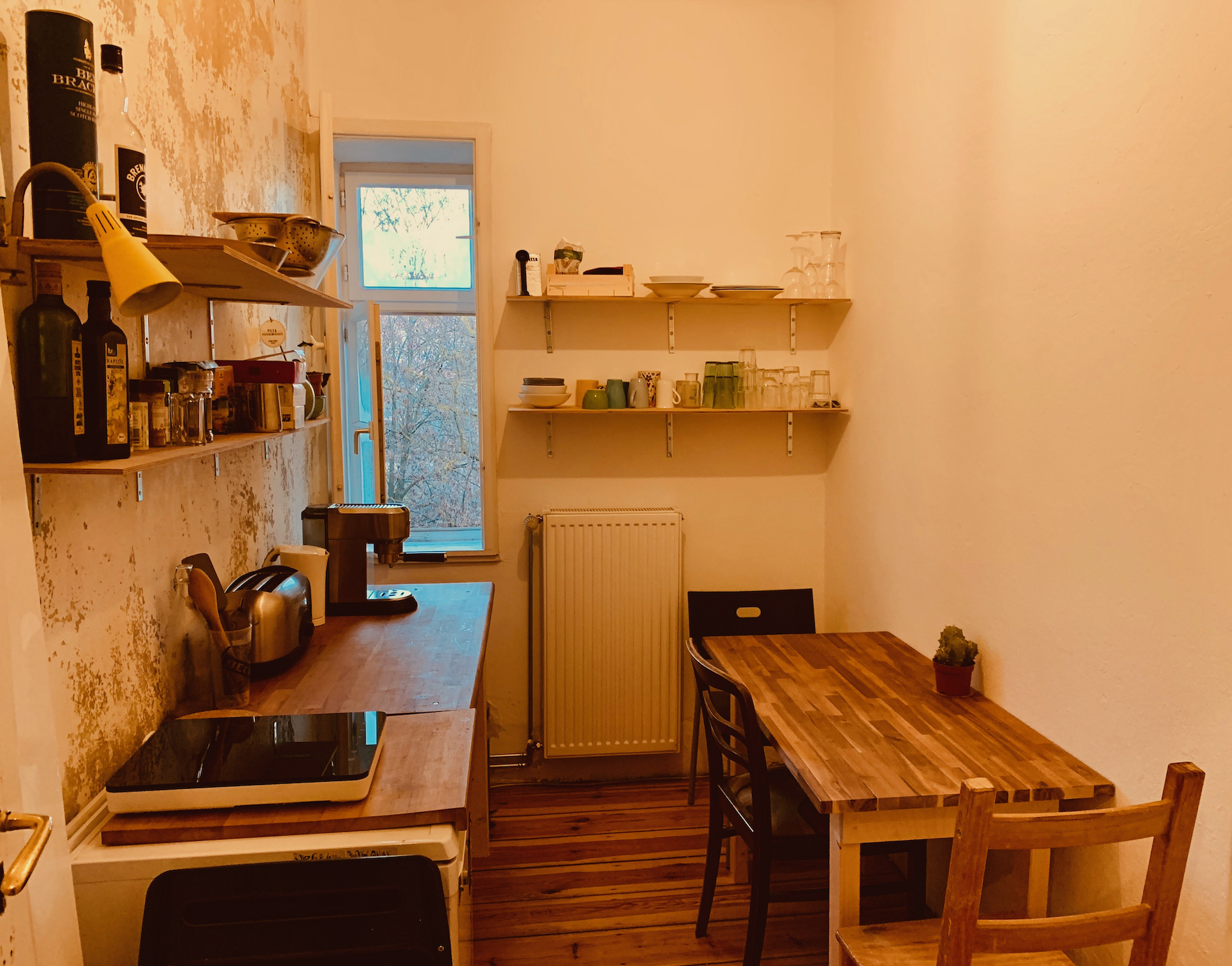 A third room offers space to relax and is occasionally used as an amp room.
INVENTORY
As a modern production enviroment the studio is not based on a conventional mixing console, but purely on 500 series modules, 19″ outboard gear, line summoning and DSP mixer (cue mixes). If needed there is a 16 channel analog mixer available.
INPUT
AMEK BC II Mixing Console
8x AML ez1073 Class-A Preamp
2x CAPI 312c Class-A Preamp/DI
500er Lunchbox Silent-Arts
Apogee AD16 Converter
Apogee DA16X Converter
Apogee Rosetta 200
RME Fireface 800
OUTPUT
Tannoy System 10 DMT II – mid field monitors
JBL Urei 6260 – amping
Tannoy NFM 8 II – near field monitors
LEM PPA 1202 – amping
Genelec 7060A – subwoofer
Adam A7X – near field monitors
Adam SUB8 – subwoofer
OUTBOARD
D-LA2A Silent Arts
EMT 266 Transient Limiter
Lexicon L480 w/ LARC
Telefunken M10A Tape Machine
MICS
Neumann M149 TUBE
TAB FUNKENWERK C 12 TUBE
Neumann U87 AI
Neumann KM184 matched pair
OktavaMod 990 matched pair
Sennheiser MD 421
Sennheiser MD 441
Beyerdynamic M160
AKG D112
Shure SM57
Shure SM58
…weitere Modelle bei Bedarf verfügbar
COMPUTER
Mac Pro 4,1
Pro Tools 12
Logic Pro X
Ableton Live
Vienna Symphonic Library
Spectrasonics Omnisphere
Fabfilter
Arturia
Waldorf
Native Instruments
Sonnox
Waves
BACKLINE
Custom Mahagoni Drumkit by Simeon Cöster
Custom Mahagoni Snare Drum by Simeon Cöster
Fender Twin Reverb 65
Fender Hot Rod Deluxe 40W
Vox AC30
Ampeg SVT 3 Pro w/ SVT 15E Cabinet
Fender Stratocaster USA 1991
Fender Mustang USA 1976
Fender Stratocaster Mexico
Magnatone Hurricane Bass Guitar USA 1965
Kawai ES-6 Master Keyboard
Sequencial Prophet 6
Diverse Percussion

Prices excl. VAT
Studio A (engineer fee excluded!) — 250€ per day — 1200€ per week (6 days)
Studio B — 100€ per day — 500€ per week (6 days)
Reel2Reel Transfer 40€/hour labor
Audio-/Videoproduction upon request